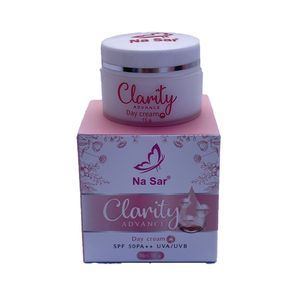 Nasa Day Cream 15g improves the skin by treating acne, black spots and bruising. Therefore, improving the skin condition to a brighter, softer, smoother feel and appearance. The cream also improves the skin humidity to 85% which is noticeable immediately.
After applying, the cream gives tightness to the skin, a younger look, plus also helps remove excess oil from the skin in order to reduce redness, facial swelling and itchy skin.
In addition, NaSa cream also helps manage acne and the skin damaged by acne, to bring the skin back to a smoother, brighter and tighter look and feeling.
Best used in conjunction with the NaSa Night Cream and Serum.
Directions: After washing and cleansing apply thoroughly to the face or neck. If using the NaSa Cream Serum in the morning, apply afterwards.